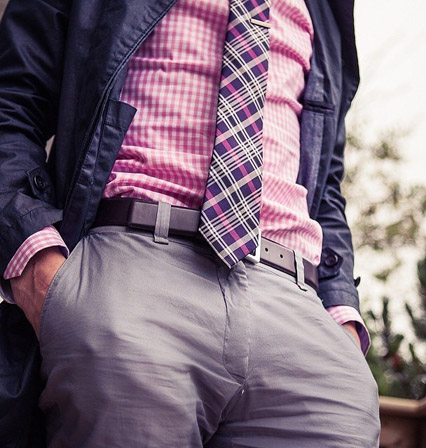 Here are 25 essential principles for every man over 14 who wants to avoid common mistakes in clothing. Every man. Without exception. For Real.
1. Do not fasten the bottom button of his jacket. It is not designed for this purpose.
2. The same applies to the vest.
3. Peel off the label from the sleeve suit before wearing it.
4. The new jacket is often a white thread on his shoulders. Remove it before putting on his jacket.
5. jacket pocket must be open. Thrust their closing thread.
6. More than three buttons on the jacket – is unacceptable.
7. At three buttonholes jacket buttoning the top button – optional. Also lapels on some jackets are made in such a way that makes the top button and all decorative. In other words, if buttoning the top button seems wrong – this is the case.
8. Long tie incompatible with a tuxedo.
9. Brown shoes – brown belt. Black boots – black belt. Here we must mention that this is more true of the clothing business, rather than a more free style casual design.
10. Or strap – or suspenders. In any case not together.
11. cuffs shirt should slightly peek out from under the sleeves of his jacket. 1-2 cm. For more information, see the article about what kinds of men's shirts are and how to wear them.
12. Trousers should have one light fold on the front of the crease. If your pants have folds and the front and rear, or if they are bent on both sides, they are too long. Read more about this in an article I wrote about the right length of men's trousers.
13. The coat should clearly encircle your body, do not hang on it. You should be able to slip his hand into the inside pocket, but if there squeezes fist – you great coat.
14. If you buy a suit, it would be nice it fit your figure of a good tailor.
15. The tie should reach your belt buckle. It should not be shorter or longer than this. More information about the fasting men's ties and stylish ways to wear it.
16. At the tie should be deepening.
17. Male jacket must not be longer than your coat or jacket.
18. Black suit should be worn on a daily basis only to the priests, undertakers, and if you're going to a funeral.
19. Belt holster for your phone – it's terrible.
20. In the same way as it applies to shoes with square toes.
21. Never wear socks with shorts.
22. Or socks with sandals.
23. If you refuel shirt in jeans, be sure to wear a belt (or braces, if you also wear a jacket)
24. Rubber slates (flip–flop), (shoes with a bridge between the thumb and other fingers) are only good for the beach or pool and nothing more. (Someone says it is – a matter of taste. I agree. If you have a taste, you'll wear them only on the beach or in the pool).
25. Never wear clothes made of polyester in addition to the gym or theme parties.